For the months of November and December, One A Wines will showcase the wines of Jean-François and Anne Ganevat with a selection of over twenty different labels.
11.11.19
November and December 2019
Monday to Saturday - 11 am to 6 pm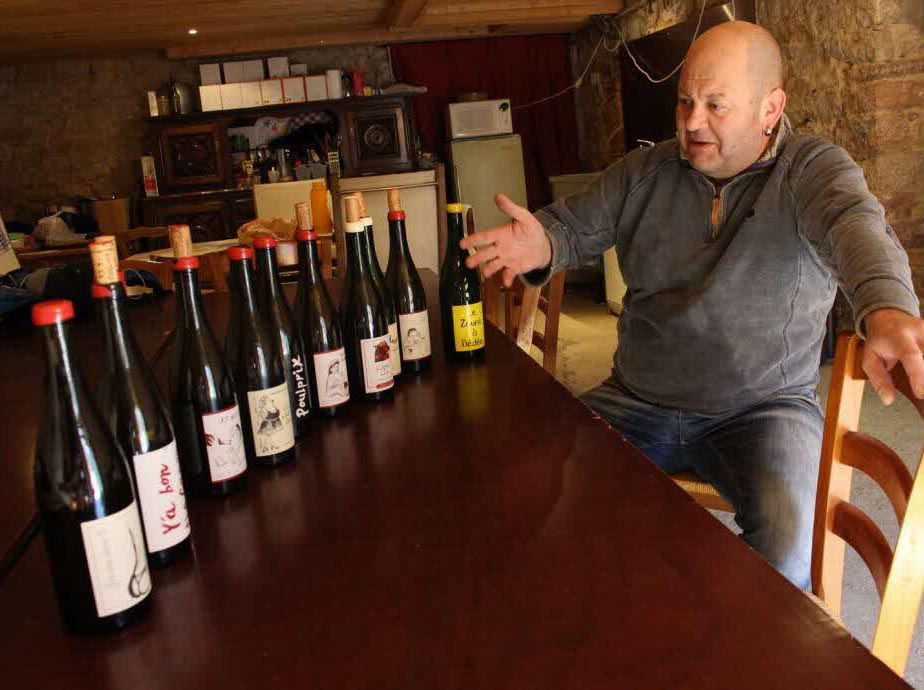 Jean-François & Anne Ganevat (from the "Kermit Lynch Newsletter")
The green, rolling landscape of the Jura is a sight to behold, and the perfect picture of how a mountainous region nestled in between Burgundy and Switzerland should appear in the mind's eye. In this cooler cli- mate, vineyards are planted on slopes at varying altitudes and gradients. This region is home to forty dif- ferent grape varietals with styles so different that they tend to shock the uninitiated. And at the heart of it all, in the charming hamlet of La Combe (just south of Lons-le-Saulnier), Jean-François Ganevat is making wine with the inspired magic of an alchemist. Known as "Fanfan" to his friends, Jean-François has occupied the better part of the hamlet with his wines, filling picturesque country cottages with barrels and barrels of his diverse yet traditional wines.Jean-François comes from a long line of winegrowers, dating as far back as 1650, although the family supplemented their grape growing with a dairy that produced milk destined for the local cheese, Comté, until 1976. After working both for his father and for the prestigious Domaine Jean- Marc Morey in Chassagne-Montrachet, Jean-François returned to the Jura in 1998 to take over the family domaine. With only eight-and-a-half hectares under vine, the family had seventeen different local varietals planted of both red and white grapes—an incredible amount of variation to consider for holdings of such small size. For such a fervent perfectionist and insatiable lover of detail as Jean-François, the decision to have the domaine certified as biodynamic was a natural choice.
Jean-François creates a stunning number of cuvées, ranging between thirty-five and forty every year. His methodology goes far beyond the details of the average vigneron. For some, his process would be madden- ing, as each cuvée calls for a highly individualized élévage. Jean-François is committed to minute doses of sulphur, so low in fact, that many fear it hurting the wines during transport. He curbs this issue entirely by aging many of his whites on the lees for extended periods of time, anywhere from two to eleven years. In the Jura, many of the wines go through a traditional, intentional oxidation; however Jean-François aims to lend a greater lightness and elegance to his wines of this style than what is typical for the region. He gravi- tates towards the Burgundian style, using ouillage to top off barrels, for example. Jean-François Ganevat is a master of his craft, one of the true magicians of the eclectic. To say that his grapes are spun into gold would not be far from the truth; they are entirely otherworldly.
Whites:
• Whole cluster fermentation à l'ancienne
• No racking of the must
• All whites go through malolactic fermentation
• No sulfur dioxide added during vinification, only a touch at bottling • Aged in demi-muids of 300-L and 400-L, as well as 228-L barrels
• Bottled in the summer, two years after the harvest
Reds:
• Whole cluster fermentation
• Reds aged in Burgundian barrels for one year before bottling
1. Le Jaja du Ben: aged for 9 months in conical barrels. 2016 vintage: 50-60% Gamay from Baujolais, 40- 50% indigenous Jura varieties, 80 years, granite, marl. 2017 vintage: 60% Gamay, 40% Grenache, 60 years, granite, clay, limestone
2. J'En Veux Encore: Aged 10 months in conical wood tank. 2016 vintage: 70% Gamay, 30% Trousseau, planted in 1900. 2017 vintage: 50% Pinot Noir, 50% Pinot Gris, 70 years, clay, limestone.
3. Y'a Bon The Canon: 50% Gamay and 50% old indigenous varieties from the Jura – 40 years old; marl and granite. Aged 10 months in conical wood tanks.
4. Madelon: 50% to 60% Gamay from Morgon and 40% to 50% Indigenous Jura varieties. Vinification see above.
5. Cremant du Jura: Chardonnay on clay and limestone.
6. Les Fanfans S'Amusent: 100% Muscat, aged for one year in amphoras. Serve chilled.
7. Les Gryphees: Chardonnay from 80-years-old vines, matured in oak barrels for three years.
8. La Barraque: Chardonnay from vines planted in 1948 over grey marl. Aged on the lees for two years before bottling.
9. De Toute Beauté: 50% Gamay from Fleurie, Syrah from Côte Rôtie, Mondeuse from Savoie and Pinot Noir d'Alsace. Aged 10 months in foudre.
10. Le P'tiot Roukin: Semi-carbonic maceration for 10 months in conical wood tanks. 2016 vintage: Pinot Noir, Poulsard, and Trousseau, 70 years, marl, limestone. 2017 vintage: 40% Gamay, 60% Pinot Noir, Poulsard, Trous- seau, 80 years.
11. Florine: 100% Chardonnay, vines planted in 1996 over limestone.
12. Cuvée de Garde: 50% Chardonnay, 50% Savagnin. 50-year-old vines over marl.
13. La Croix des Batailles: 100% Gamay over granite.
14. La Pelerine: 100% Chardonnay, 60-years-old vines. Aged 30 months on fine lees in barriques.
15. Mon Luc: Pétillant-Naturel Rosé. Aged one year in foudre and bottled before the end of fermentation to pre- serve "pétillance".
16. La Graviere: Aged 30 months on fine lees in foudre. Chardonnay vines, 60-years old on grey marl.
17. Kopines Blanc: A blend of two vintages: 2016 Chardonnay, aged 2 years in barrel – 2017 Aligoté, aged 1 year in barrel
18. Les Cedres: Chardonnay, 80-years old vines on marl. Aged 30 months on fine lees in barriques. 19. Plein Sud: Trousseau, planted in 2000.
20. Le Zaune à Dedee: 80% Gewurtzraminer, 20% Savagnin. Gewurztraminer is skin-macerated and Savagnin is vinified sous-voile and aged in 250-L oak barrels for 7 years.
21. Jura Blanc Champs Poids: Chardonnay planted in 1986, limestone.
22. Sous La Roche: 100% Savagnin
23. Cuvee du Pepe: Chardonnay. 70-year old vines on Marl. Aged 13 years sous voile in oak barrels.