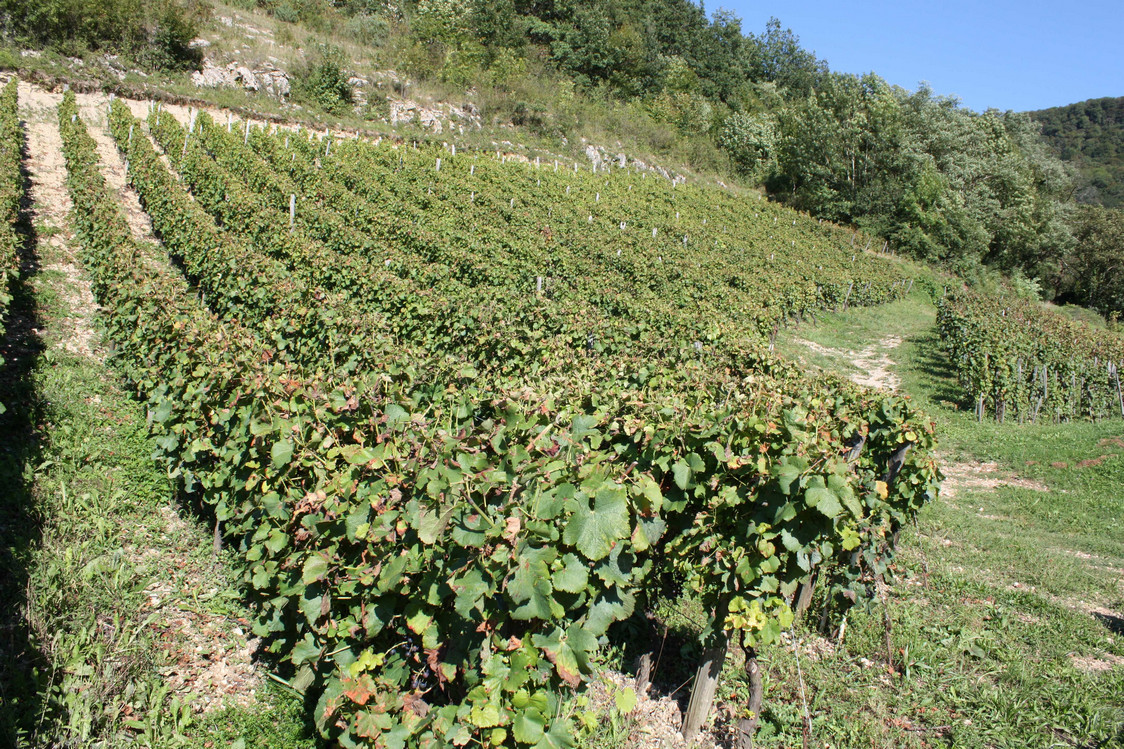 The Ganevat family has been working the land in the Jura for countless generations: it was mostly polyculture, with some cows and vineyards. Jean-François's father decided to focus on wine making and they have never looked back.
Anne and Jean-François, sister and brother, have been working bio-dynamically since 2006 and have with time become among the most interesting producers of the Jura. They have an obsessive attention to the terroir and each batch of grapes is handled respecting its provenance, mirrored in the vast array of different wines they produce, one from each small parcel of land.
Jean-François believes firmly that 90-95% of the work should take place in the fields and have since years abandoned the use of sulphites in the cellar completely. They de-stem by hand and trim each cluster with scissors, aging the white wines anywhere from 2 to 11 years. His patience has ushered in perfection and made him a master winemaker.
Fresh and well-balanced, the non-vintage Cremant du Jura Blanc has a nose of over ripe apples and bready notes. Fruits and florals appear after some time and it becomes an elegant, dry wine full of minerality. The Ganevat Jura Blanc Sous La Roche is made with three different types of the varietal Savagnin, grown on a schistose soil. The Cuvée de Garde is aged 'sous voile', 'under a veil' of yeast for 5 years, giving it the nutty, oxidative style typical of the Jura region.
Ganevat Cremant du Jura Blanc, NV
Chardonnay
12% ABV
Ganevat Cuvee Madelon, NV
Gamay, Indigenous Jura Varieties
12.5% ABV
Ganevat Jura Blanc Cuvee de Garde NP, 2011
Chardonnay, Savagnin
13.5% ABV
Ganevat Jura Blanc Sous La Roche, 2014
Savagnin Blanc
12.5% ABV
Ganevat Le Zaune a Dédée, 2013
Gewürztraminer, Savagnin
12.5% ABV
Ganevat Chardonnay Chamois du Paradis, 2014
Chardonnay
12.5% ABV
Ganevat Chardonnay Florine NP, 2014
Chardonnay
12% ABV
Ganevat Trousseau Plein Sud, 2015
Trousseau
13.5% ABV
Ganevat Madelon NP (Magnum), 2016
Gamay, Indigenous Jura Varieties
12.5% ABV
Ganevat De Toute Beaute, NV
Gamay, Syrah, Mondeuse, Pinot Noir
11.5% ABV
Ganevat J'en Veux Encore, 2016
Gamay, Indigenous Jura Varieties
12% ABV
Ganevat Y'a Bon The Canon, 2016
Gamay, Indigenous Jura Varieties
11% ABV
Ganevat De Toute Beaute, 2016
Gamay, Syrah, Mondeuse, Pinot Noir
11.5% ABV